Lighting quality has a direct influence on well-being and emotions, and consequently on purchasing behavior.
Velum has been working for many years to offer you customized solutions and a wide range of track lighting, light lines, recessed and pendant luminaires to meet all your store lighting needs.
The result: tailor-made lighting concepts in which all aspects are integrated both technically and aesthetically.
LED LIGHTING for supermarkets and department stores has become essential to remain competitive.
LED lights have an exceptional life span of up to 60,000 hours. They are suitable for the daily opening hours of supermarkets and department stores without the risk of overheating.
Guiding the customer and directing the eye is part of our know-how!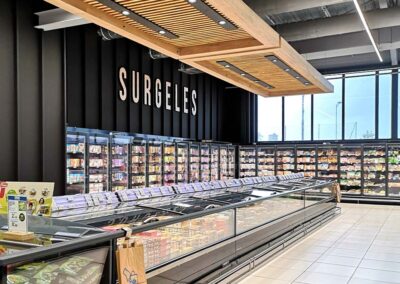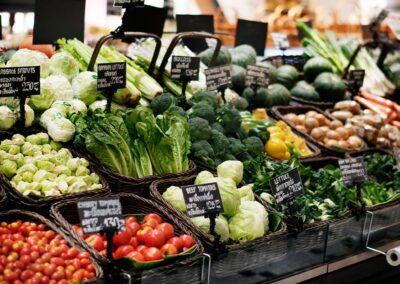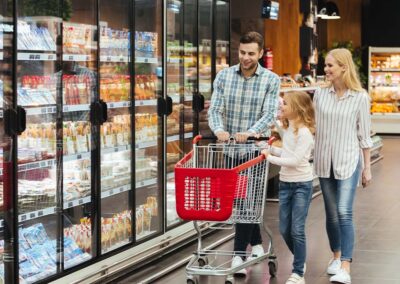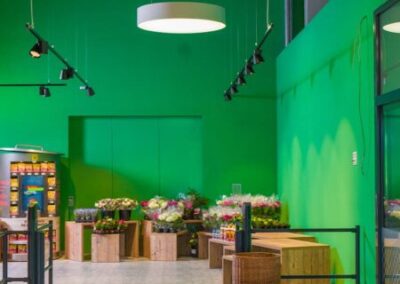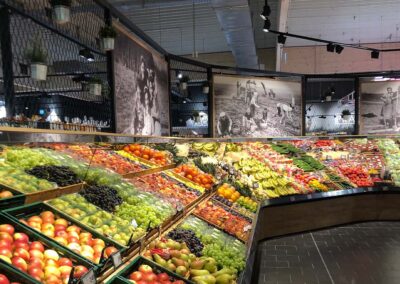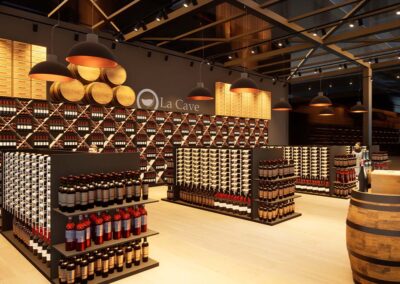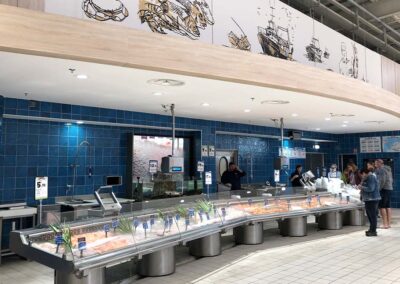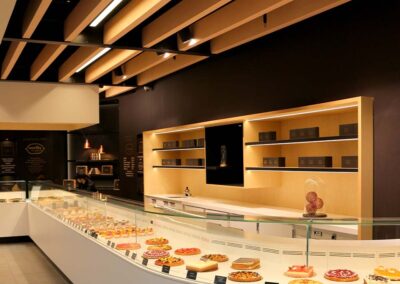 THE BENEFITS OF GOOD LIGHTING
Innovative Full LED technology
Innovative technologies and optimized luminaire life: up to 60,000 hours of life 
Energy Consumption Reduction
Low-energy luminaires for real energy savings
Improved ease of use
Specific light sources (food, bakery, seafood, fish shops, etc.)
Product Enhancement
From general retail lighting to product accent lighting
Intelligent Lighting Management
DALI protocol, wirelessly connected luminaires, Tunable White technology
LIGHTING MUST BE ADAPTED TO YOUR BUSINESS
Freshness & sparkle
A sunny spectrum of light takes customers to southern regions, to markets of abundance. The variety of colors of the fruits and vegetables is a delight for the eyes. The important thing here is to highlight this diversity and keep it fresh.
With bright colors.
Butcher's or fishmonger's products are the highlight of any refrigerated display case. Appropriate lighting with a suitable light spectrum not only enhances their colors, but also keeps them fresh for much longer!
Bright landscapes that promote a relaxed shopping experience.
Make your items really stand out with optimal light distribution and efficient energy use. Eye-level light accents and shadow-free lighting of vertical surfaces make this possible.
The tricky part: finding it without looking too hard
Tailor-made lighting, adapted to the time of day, has a positive effect on staff and customers. The key to success is the perfect balance between stimulation and relaxation.
Your first point of contact, your image.
Create a pleasant, positive atmosphere, in keeping with your store's identity, and make it easier for visitors to find their way around.
Offices, cafeterias... Work more productively thanks to a high level of visual comfort.
Lighting requirements play a decisive role in employee productivity and motivation.
Customized lighting: our designer lighting fixtures!
Imagin allows you to customize and bring to life each of your ideas! We offer you a range of 100% customizable design lights, in total adequacy with your project.
Welcoming and attractive
Lead safely while welcoming your customers and passers-by
Storage, reserve ...
Ensure safety while improving productivity and comfort of employees.
Robust, reliable, long-lasting lighting.
The entrance area asserts its identity and creates a clear recognition value for your customers.
Easily direct your customers while preserving the ecosystem.
Think warm color temperatures that won't disturb nocturnal wildlife. Our lighting also adapts to your closing times, with power adjustment and switch-off.
Robust, reliable, long-lasting lighting.
Whether for covered outdoor areas, facades, paths or parking lots, we offer effective solutions to guide pedestrians and drivers in complete safety.
Lighting represents 25% of the average energy bill of a business. It is an essential item for the attractiveness of the store.
Lighting accounts for a significant proportion of the energy bill in retail outlets: up to 60% in some sectors (clothing, food, pharmacy, etc.). Improving lighting conditions is a source of comfort for customers and staff alike. It also enhances the attractiveness of the business.
OUR FLAGSHIP PRODUCTS FOR YOUR SUPERMARKETS
VELUM: SYSTÈME U REFERENCED PARTNER